Early Childhood Education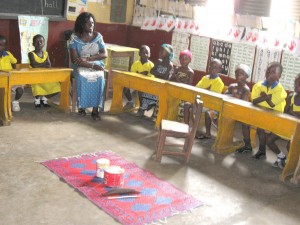 In 2003, the Ghanaian Ministry of Education recommended that early childhood education become part of the country's formal education system, mandating that kindergartens be attached to all primary schools. MCI asked its longtime partner, the Government of Israel's Office of International Cooperation (MASHAV), and the world-renowned experts in early childhood development at the Mount Carmel Training Center in Haifa, Israel, to help the Millennium City of Kumasi, Ghana, fulfill this mandate. MCTC came to Kumasi and quickly got to work, consulting with Kumasi educators to custom-tailor an early childhood curriculum and introduce a new approach to early childhood learning.
MCTC specialists began by observing Kumasi's kindergarten classrooms, noticing that each class typically held more than 100 students and lacked space for movement. They worked closely with MCI's West Africa Regional Coordinator Abenaa Akuamoa-Boateng, the Kumasi Metropolitan Education Derectorate and a core group of teachers to create a new early childhood program based on the philosophy that children learn through play and experience. MCTC specialists also worked with the Kumasi educators to change the classroom environment, and created dedicated spaces for activities, such as reading, building blocks and playing games, all to encourage learning through play and imagination. They also recommended that teachers speak in their native Asante language, Twi, rather than in English, which they believed would encourage more creative expression from these very young students.
The core group of Kumasi teachers trained by the MCTC specialists participated in several levels of training, eventually becoming master trainers, following a three-week course in Israel in 2011. Those teachers have since introduced this new early childhood education program to more than 100 Kumasi teachers and, with UNICEF's help, to dozens of educators in northern Ghana. Seventeen model preschools have been built, serving nearly 3,000 students, and teachers spend more time reading and engaging their students.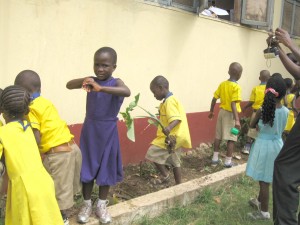 In 2013, with Government of Israel support, the project was replicated in Accra, Ghana's national capital and second Millennium City. Educators were trained there and in Israel, as was the case with the Kumasi teachers, only this time, the Kumasi teachers had the opportunity to serve as mentors and trainers themselves.
The program was very successful, and teachers were receptive and excited about the new curriculum and cozy, inviting classrooms. MCI anticipates that this this model will continue to expand across Kumasi, Accra and beyond, enabling more of Ghana's youngest students to benefit from this dynamic, hands-on approach to early learning.