Training, Donations & Interventions
Doctors from Ben Gurion University and Hadassah Hospital, with support from the Government of Israel's Office of International Cooperation (MASHAV), performed training workshops in the Millennium Cities in the areas of infectious diseases, HIV/AIDS and nutrition, lifestyle and heart disease, neonatal emergency care and emergency and trauma care. The Israeli experts were invited to train practitioners in this last area in Kumasi, Ghana, when a new accident and trauma hospital opened up there; in Kisumu, Kenya, the training accompanied the donation and construction by the Government of Israel of an entire emergency unit, Kisumu's first. The neonatal emergency trainings in Kumasi led to the design and construction, also by Israeli neonatologists and the Government of Israel, of two neonatal triage clinics at two local hospitals. Known locally as Mother-Baby Units, these clinics are set up to address newborns' less urgent medical and feeding needs, so that mothers don't bring their newborns to the dangerously overcrowded neonatal emergency room at Kumasi's national-level tertiary center, which has been dramatically decongested as a result of this intervention.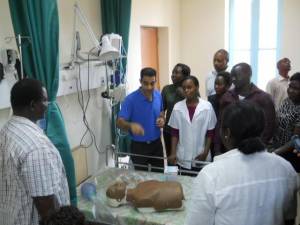 With support from the American non-profit AmeriCares, American Academy of Pediatrics, Harvard Medical School and Johnson & Johnson, MCI built upon the work of the Israeli neonatalogists by organizing further life-saving trainings in neonatal resuscitation in Kumasi, as well as in Ghana's capital, Accra, Kisumu, and in Mekelle, Ethiopia. Also in Mekelle, our partner at Ben Gurion University and Nala Foundation carried out multiple trainings in infectious diseases and dewormed all the public primary schools, whereupon the Mekelle Health Office was able to recalibrate its treatment plan for waterborne diseases in response to the realities revealed in the course of the deworming. We helped facilitate other direct health interventions, ranging from urological surgical and training missions (two in Kisumu, two in Mekelle) conducted by the Knock Foundation with support from United Therapies (read the Knock Foundation's report, A Model for Implementation and Sustainability of Urologic Services in the Developing World), to several missions to Segou, Mali, to conduct fistula repair surgeries and trainings, carried out by our longtime partner, Physicians for Peace. Having identified the dearth of available safe blood in the course of this work in Segou, MCI and PfP worked with the American Red Cross, Safe Blood for Africa and the National Blood-banking Authority of Mali's Ministry of Health to create a new regional blood bank at the local hospital there that will hopefully become a model for safe regional blood-banking in Mali and beyond.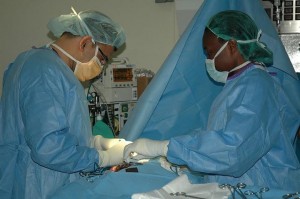 We coordinated an extensive series of trainings in obstetric ultrasound technology in Kumasi, led by the UK-based International Society for Ultrasound in Obstetrics and Gynecology, and a series of rotations in Kisumu for advanced surgical residents from Columbia University College of Physicians and Surgeons. One of these rotations led to an introduction to International Surgical Mission Support, which ultimately sent two teams of surgeons – the first comprising general, thoracic, plastic, obstetric and reconstructive surgeons, the second comprising pediatric surgical specialists – to Kisumu's regional hospital, where they performed more than 100 procedures.
The Himalayan Cataract Project helped train ophthalmologists and carry out complex cataract surgeries in multiple Millennium Cities, saving the sight of thousands of patients. HCP also built two Centers for Excellence in Eye Care in two Millennium Cities, Mekelle and Kumasi. MCI is very grateful to all these partners, as well to AmeriCares, Becton-Dickinson, Johnson & Johnson, Physicians for Peace, Siemens and United Therapies for supplying urgently needed services and donating essential medical equipment, supplies and medications to facilities in numerous Millennium Cities.