Neonatal health
MCI was committed to addressing this challenge across the Millennium Cities. Soon after MCI began its work in Kumasi, Ghana, neonatologists from Ben Gurion University came to train in neonatal emergency care at the national teaching hospital there and immediately saw the dangerous overcrowding in the neonatal intensive care unit. With support from Israel's Office of International Cooperation (MASHAV), these practiced physicians designed, built and trained staff to operate two low-tech neonatal clinics, equipped to handle deliveries, resuscitate asphyxiated newborns, treat minor issues and provide mothers with advice on nursing, health and nutrition.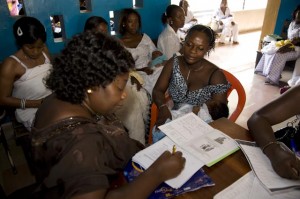 MCI took this effort further by designing and conducting a Neonatal Survival Program for health staff at all local hospitals in Kumasi and Accra, Ghana's two largest cities. This innovative program, funded by Johnson & Johnson with support from AmeriCares, the American Academy of Pediatrics (AAP), the Ghana Health Service and the Accra and Kumasi Metropolitan Health Directorates, trained trainers in neonatal survival and infant care. Four obstetrician-gynecologists, who became Master Trainers in the AAP's Helping Babies Breathe™ protocol, then trained116 midwives, nurses and other health professionals in these life-saving resuscitation techniques. Sixty-eight newborns out of 2,004 live births were successfully resuscitated as part of this six-month project, during which time nearly 1,500 mother/baby pairs were followed, and the mothers were given monthly tips regarding health, hygiene and nutrition when they would bring their babies for inoculations and check-ups.
The AAP, Ghana's Ministry of Health, USAID and other committed development partners are currently scaling up the project across Ghana. With support from Johnson & Johnson, MCI expanded the training in neonatal resuscitation to northern Ethiopia, where newborn survival remains a challenge in both the MCI and Millennium Villages Project sites. The Ethiopia trainings equipped more than 200 providers across the Tigray region, in both Mekelle, the regional capital, and in the countryside near to the Millennium Villages, with the knowledge necessary to save countless lives by making smart use of the brilliantly simple, low-cost equipment developed and produced by the Norwegian firm Laerdal Medical, in close association with AAP.