Investment Guides, Handbook and Profiles
MCI's investment guides provide an overview of the main sectors that have been identified as offering productive opportunities for investors interested in a particular Millennium City. The guides also provide information on key issues such as infrastructure, the legal and regulatory environment governing investment and the broader context of development issues.
Because they are a reflection of the situation at the time of their preparation, users are advised to check on whether conditions have changed since their publication. Intended for both foreign and domestic investors, these guides are written to be credible and useful tools for evaluating some of the more promising investment sites in sub-Saharan Africa.
---

Invest in Tanzania: Focus Tabora
Abstract: Invest in Tanzania: Focus Tabora. A growing city in western Tanzania, Tabora is the capital and economic center of the country's largest region. Invest in Tanzania: Focus Tabora outlines viable opportunities in processing of honey, edible oils, dairy, and tropical fruits, among others. With a pleasant climate, rich cultural assets and proximity to the Ugalla River Game Reserve, the area also offers significant opportunities for developing tourism facilities and services
---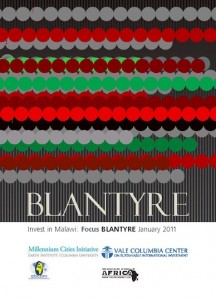 Invest in Malawi: Focus Blantyre
Abstract: Invest in Malawi: Focus Blantyre describes the investment climate in the second largest city in Malawi and the country's commercial capital. Blantyre's business-friendly environment, regional transport connections and low-cost English-speaking workforce make it an attractive location for investors, particularly those seeking opportunities in agro-processing, textiles, tourism and mining.
---
Invest in Ethiopia: Focus Mekelle
Abstract: This guide provides a detailed analysis of Mekelle's investment climate, sketches the broader context of Ethiopia and the Horn of Africa, and provides balanced descriptions of investment opportunities in tourism, agriculture and agro-processing, mining, and manufacturing, among others.
---

Invest in Ghana: Focus Kumasi
Abstract: This guide treats Kumasi, a substantial city of over two million people located in Ghana's most populous region. Kumasi's central location, about 270 km northwest of Accra, makes it a major commercial and transport hub for much of the nation. Investment opportunities abound in and around the city, particularly in the areas of agriculture, agro-processing, tourism, retail, light manufacturing and mining.
An abbreviated Kumasi Investment Guide, produced in 2013 as part of the Regional Partnership to Promote Trade & Investment, is also available.
Download
---
Invest in Kenya: Focus Kisumu
Abstract: A pleasant lakeside city in the heart of East Africa, Kisumu presents opportunities in agriculture and agro-processing, aquaculture, dairy, tourism, construction and manufacturing. The region's educational institutions contribute a well-regarded workforce, and Kenya's participation in various regional and international trade agreements, such as COMESA and AGOA, extend the city's market well beyond the region.
---
Handbook on Investment Promotion in Medium-Size, Low-Budget Cities in Emerging Markets
Abstract: This Handbook for Promoting Foreign Direct Investment in Medium-Size, Low-Budget Cities in Emerging Markets is intended as a tool for city administrators in cities of low-income countries to attract investment. Foreign direct investment – on which this Handbook is focused – brings scarce capital, know-how, technology and access to foreign markets. Furthermore, if well embedded in the economic strategies of host economies, foreign direct investment can help improve the competitiveness of domestic enterprises as well, a core foundation of economic growth.