Women's & Girls' Centers
MCI always strived to create opportunities for women and girls in the Millennium Cities through both our research and our programming, in the belief that this work can have a profound impact on those women and girls' health, education and livelihood, while also having a positive effect on their families and communities.
One project involved the creation of a Women's and Girls' Center in Kumasi, Ghana, in the vibrant Bantama neighborhood, situated amid six schools and a commercial center. We collaborated on this initiative with local, national and international NGOs focused on serving women, the Kumasi Metropolitan Assembly, Health and Education Directorates and the Department of Women for the Ashanti Region, as well as Columbia Urban Design Lab architects (UDL) and their counterparts at Kumasi's Kwame Nkrumah University of Science and Technology (KNUST) have design the facility.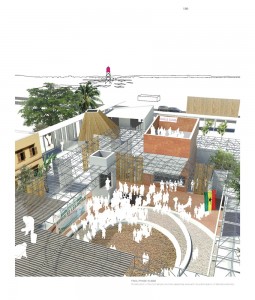 MCI took a leading role in conceptualizing and developing this exciting initiative, and in February 2014, MCI, UDL and KNUST architects met with numerous stakeholders in Kumasi's Bantama area, to begin to build an information base and to scope and map the actual site.
In Kisumu, Kenya, MCI worked in slum communities where, through our careful, consultative work over a number of years, we earned the trust of the residents and learned about the most urgent needs and desires of local women and girls regarding the services and activities they hope to enjoy in their neighborhood.