MCI Hosts Girls' Life Skills Training in Mekelle, Ethiopia
MCI conducted a one-week training program for primary and secondary school girls from the greater Mekelle region, focused on developing the girls' life skills tool set, namely, strengthening their leadership, public speaking and advocacy skills.   Twenty-eight girls representing seven schools, accompanied by female teachers, attended the training, which was led by MCI's Social Sector Specialist Aberash Abay Tadelle Gebru.  The girls demonstrated gained skills at the end of the training by producing their own video documenting the unhealthful latrine situation in Mekelle's public schools and requesting funding to help finance newer, cleaner, more sanitary latrines in the future.  The girls' film was shown as part of the MCI-sponsored Donor Roundtable, which took place in Addis Ababa, Ethiopia, on October 4, 2013.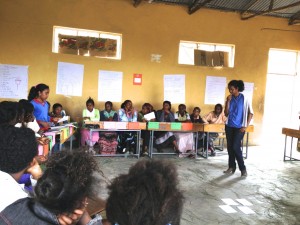 MCI initially became interested in conducting life skills training as a way to address two concurrent problems identified through research: the latrine situation in public schools, particularly for girls; and a lack of programs to support girls' literacy, self-esteem and leadership development at an early age.  MCI needs assessments in education, gender and water/sanitation identified as problematic the latrines and sanitation conditions at school, as well as in many other municipal facilities.  Mekelle currently suffers from a lack of water, water infrastructure, sanitation infrastructure and solid and liquid waste disposal.  As an example, there is no wastewater treatment center in Mekelle, a city of more than 270,000.  Additionally, as of 2007, only 73 percent of schools in Mekelle had a water tap — though whether water comes out when the existing taps were turned on was often in question.  For those schools with a tap, few had more than one for the either school population.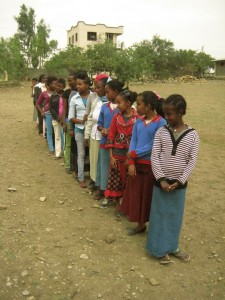 Additionally, the field research and observations of Columbia University School of Nursing Clinical Instructor Mary Moran, a longtime MCI partner who organized a sanitary pad-making project, with MCI's facilitation, in 19 Mekelle schools, revealed that many girls opt not to attend school during or for part of their menstrual cycle.  While Mekelle has reached gender parity in primary education, if girls are missing school during their menstrual cycle, they stand to miss up to 20 percent of classroom time.
Sparked by these findings Aberash conducted a weeklong skills-based workshop during which attendees learned about sanitation and hygiene concerns and gained the skills sets to actively and effectively discuss these issues in order to spark change.  Girls enthusiastically participated in learner-based activities, where as a group, they learned to tell their story, become young female leaders in the community and formulate an effective campaign.  Based upon their self-defined goals and objectives, the girls' film showcases their concerns and hopes, through song, dance, latrine tours, interviews and dramas.
To learn more about the project, please read MCI's official report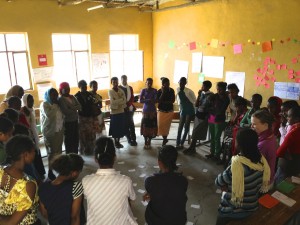 .