Cure Cervical Cancer Establishes 4 Clinics & Screens Hundreds of Kisumu Women
Did you know that cervical cancer is the second most common cancer, with nearly half a million women falling ill with the disease every year? Sadly, three out of every four cases occur in developing countries, where many women often lack access to screenings, where it can take more than six months even to get a pap smear read and, when a positive diagnosis is confirmed, essential care is often unavailable, particularly for early treatment that can so often be life-saving.* In Western Kenya, where Kisumu is located, the mortality rate for cervical cancer is equivalent to that of maternal mortality, one of the leading causes of death in developing countries.
Yet cervical cancer screenings – widely available in many developed countries – can help detect concerns and lead to treatments that vastly improve survival rates.
Dr. Patricia Gordon, a radiation oncologist at Beverly Hills Cancer Center, discovered through her travels that millions of women lack access to preventive cervical cancer treatments. Responding to this critical need, she founded Cure Cervical Cancer (CCC), a nonprofit dedicated to treating women for this often fatal illness and establishing sustainable screening and treatment clinics around the world, including in Kisumu, Kenya.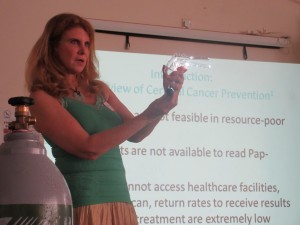 Dr. Gordon went on a scoping mission to Kisumu, where she was introduced to the MCI team and to local health authorities by MCI Public Health Specialist Beldina Opiyo-Omolo and by Dr. Joel Cornfield, a veteran in serving the Millennium Cities as part of two KNOCK Foundation missions to Kisumu and to Mekelle, Ethiopia, to conduct complex urological surgeries.
In April 2014, Dr. Gordon, Dr. Cornfield and his wife Judy Laner, together with other members of the CCC team, returned to Kenya, this time to establish four new clinics in Kisumu and one in Nairobi, with the help of MCI and the International Medical Corps (IMC). The CCC team trained 14 local healthcare professionals in a procedure known as "visual inspection with acetic acid" ("the vinegar test") and cryotherapy, to treat any pre-malignant surgical lesions. In addition to practical training, the team equipped clinics with hundreds of much-needed supplies used in their routine cervical cancer screenings and treatments.
Beldina Opiyo-Omolo was instrumental in coordinating the team's work on the ground in setting up three of these "See and Treat" clinics – the Jill Rotman Clinic, at the Jaramogi Oginga Odinga Teaching and Referral Hospital (JOOTRH), Western Kenya's largest referral hospital, named in honor of Ms. Laner's late sister; the Shelton-Rogers Clinic at Migosi Health Center; and the Evelyn McEntire Clinic at Gita Health Center. The clinics are named for loved ones of the founders of, practitioners at and donors to CCC.
"I am so happy and electrified with the success," said Beldina Opiyo-Omolo. "I was thrilled to contribute to Dr. Gordon's and the CCC team's efforts, which have already had a significant impact on Kisumu's efforts to fight cervical cancer."
Health professionals from JOOTRH, Migosi and Gita, along with professionals from Kodiaga Health Center (set up with IMC's help), participated in three days of trainings on the "See and Treat" procedure. Following the trainings, the healthcare professionals were accompanied by CCC team members to begin setting up their own cervical cancer screening and treatment clinics. The objective: sustainable change – providing area healthcare professionals with essential skills necessary to perform low-cost, low-tech cervical cancer screenings and treatments for women in the area.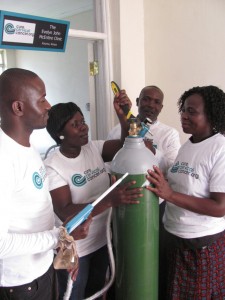 Amazingly, more than 770 women were screened in Kisumu during these trainings – the most women Dr. Gordon has seen on a single mission since beginning her advocacy and outreach efforts with CCC. The team was also able to identify and treat 80 women who needed cryotherapy. MCI used an aggressive mobilization strategy to bring the "see and treat" sessions to the attention of area women, with posters and promotional spots on five local radio stations, including with Dr. Gordon serving as a guest on three talk shows.
"The Ministry of Health representative announced at the graduation of the trained healthcare professionals that there was no facility in the entire county that offered screening and cryotherapy for precancerous cervical lesions prior to our visit," writes Dr. Gordon on the curecervicalcancer.org blog. "Imagine how proud the CCC team felt at that moment! For me personally, while simultaneously exhausted and exhilarated, I have never had a prouder professional moment."
CCC, which has also helped establish clinics in the Millennium City of Mekelle as well as in Guatemala, Haiti, Vietnam and in Kenya's own Masai Mara, hopes to open more clinics in western Kenya in the future.

*GLOBOCAN, 2008, as depicted on curecervicalcancer.org.