Bantama Market Clinic: Enhancing Women's Lives by Bringing Affordable Healthcare and Credit to Women Traders
MCI released a report depicting the establishment and early successes of a dynamic new clinic in Kumasi, the Bantama Market Clinic, which MCI established in September 2013 with support from the Kumasi Metropolitan Assembly (KMA) and Health Directorate (KMED).
The clinic was the result of a series of consultations with women traders in Bantama, the second largest market in Kumasi, undertaken to better understand their needs so as to help prioritize KMA programming aimed at addressing the gender gaps identified by MCI's needs assessments. MCI also conducted a baseline survey of the traders, which revealed significant financial instability and limited access to quality healthcare.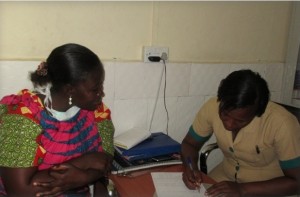 The clinic, the first of its kind in Ghana's second largest metropolis, provides counseling and screening services for non-communicable diseases and cancers and facilitates referrals as needed, treats minor ailments, promotes family planning and reproductive health and offers child welfare services.
Many of the clinic's patients also benefited from an innovative Social Capital Credits scheme, a program created by MCI Advisory Board and Urban Design faculty member Geeta Mehta aimed at rewarding women for engaging in acts beneficial to themselves and their communities. All women who received screenings were invited to participate; earned credits are traded for things of value to them, such as school supplies for their children or supplies for their market stalls. One exciting incentive: assistance applying for microloans from MCI's partner nonprofit Self Help Ghana, offered at a 30 percent interest rate, which is among Ghana's lowest.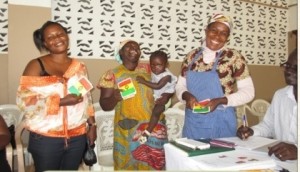 In its initial eight months, the Bantama Market Clinic and its SoCCs program enjoyed remarkable success: the clinic conducted 1,532 assessments for 315 market women, and 13 groups of 3-5 women received small loans to help them grow their businesses.
Click here to access the "Bantama Market Clinic Report,"prepared by MCI Regional Coordinator for West Africa Abenaa Akuamo-Boateng.
We also invite you to view an infographic featuring key highlights from the "Bantama Market Clinic Report."