VOiCE, MCI's Youth Nonprofit Partner in Accra, Issues Its 1st Newsletter
MCI's Accra Program Manager, Joe Melara, was instrumental in supporting Voice in Community Empowerment (VOiCE), a nonprofit youth organization aimed at facilitating the implementation of socio-economic and developmental projects in Accra's East Ayawaso Submetro area through concerted volunteerism from the area's youth.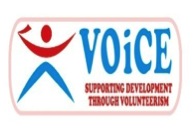 VOiCE, which hosted a "Girls' Priorities" forum aimed at capturing the concerns of girls and young ladies, released its first newsletter, along with a brochure promoting the organization.
MCI was honored to be able to support VOiCE in its efforts to empower youth to bring change to their community.