Kisumu Girls' LitClubs Share Kindness, Hope and Belonging with Others in Multi-School Celebration of the UN's International Day of the Girl Child
Kindness, hope and belonging: all key attributes of strength embodied in Kisumu's Girls' LitClubs. Throughout the school year, LitClubs strive to instill kindness, ignite hope and give all participants a sense of belonging to a group that cares deeply about their overall wellbeing, their future and the stability of their larger community. A multi-school celebration with MCI's longtime partner LitWorld of the United Nations' International Day of the Girl Child focused on these three attributes, all core to the LitClub curriculum, in an array of activities organized aimed at encouraging Kisumu residents to "Stand Up for Girls."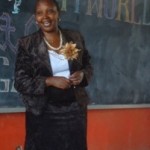 Mme. Olympia Keino Okal, the daughter of Kenya's first Olympic gold medalist, Kipchoge Keino, spoke to girls at Magadi, Migosi and Nanga Primary Schools. Mme. Okal described her struggles – from being hungry for 21 days, to being a girl and young woman in a country where women are often disrespected, to fighting for an education. She inspired the girls by sharing her own story and encouraged them to pursue greater opportunities for themselves in the face of adversity.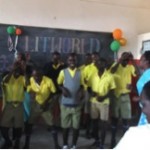 At Magadi Primary School, located in Manyatta, Kisumu's largest informal settlement where MCI concentrated its work over the years, students based their activities around the LitClub attribute of "hope" by choosing to help a special needs class. Boys at the school got involved, too, helping to hang posters and ready the school for the occasion. The girls met with the school's special needs students, who taught the girls to make necklaces, tablemats and paper beads and who capped off the experience with a performance honoring the girls. The LitClub members were truly touched by the demonstrated courage of the special needs students, many of whose fathers left their mothers after their birth, believing the children were cursed. The children's resilience inspired the LitClub girls to be even more hopeful and to stand up not only for girls, but also for all disadvantaged children struggling to overcome obstacles worldwide.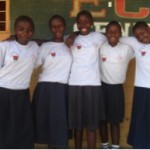 Another Girls' LitClub, at Migosi Primary School, a school with both very poor and middle-class students, based its activities on the LitWorld attribute of "kindness." Club members collected clothing that they then distributed to those in need of new uniforms and gave the older students biscuits, showing generosity to others.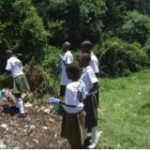 At Nanga Primary School, where many students have parents who are ill or who have died of HIV/AIDS, the Girls' LitClub emphasized the importance of "belonging" by organizing a school-wide clean up to show their gratitude to the school.
The girls at all three school sites face a multitude of poverty-related challenges, from a lack of proper lighting at school, compromising their ability to study, to gender-based violence in some of their homes, to (for some) early pregnancy and/or prostitution, with the inevitable accompanying feelings of shame. Yet the LitClub Girls feel optimistic about their futures, as their kind, hopeful and community-building efforts to "stand up for girls" make clear.
MCI is grateful to all of the participants for their commitment to "stand up for girls," not only on this commemorative date, but every day. We would especially like to stand up for Kisumu LitClub Coordinator Phoebe Darya Bosse, MCI Public Health Specialist for Kisumu Beldina Opiyo-Omolo and the LitClub facilitators, for all they have done over the years to mentor Kisumu girls. The girls' clubs, as well as the teen and mothers' clubs, will continue after MCI's close, with ongoing support from the Kisumu Municipal Education Office and under the auspices of the Alice Visionary Foundation Project, a partner NGO. We are grateful for these partners' commitment to inspiring and empowering young girls by giving them valuable tools that can help them lead full and rewarding lives.