Report Summarizes MCI's 9 Years of Work in Kisumu, Kenya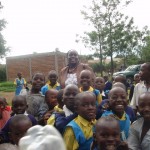 MCI wrapped up its work in Kisumu, Kenya, with a final publication prepared by MCI Public Health Specialist for Kisumu Ms. Beldina Opiyo-Omolo. MCI-Kisumu: A Final Report provides an overview of MCI's work in Kenya's third largest city since its initial designation as a Millennium City in 2006. An overview of MCI's extensive research and interventions in the City, spanning the areas of health, education, gender and urban planning, is followed with a deeper dive into our efforts to strengthen the community of Manyatta, one of Kisumu's largest informal settlements where residents confirm that programs supporting women and girls, livelihood opportunities and environmental upgrades have made a significant difference in their daily lives.
Over the years, the City has made significant strides in a number of areas, including in improving access to public services and the quality of life in this critical regional hub.